About the Alliance Project - 20 years of providing support to teachers
​What is the Alliance Project Grant?

The Alliance Project​ partners art, cultural and science ​organizations
​with teachers in creating curriculum applications and learning
​opportunities for students. ​ performances, ​workshops, guest
​ artists/scientists, and field trips are provided to ​​supplement
​curriculum.
The grant covers expenses for approximately ​25-30 events at a value of approximately $7,000 in goods and ​services over the course of a year.
The Alliance Project is funded ​by​the Science & Cultural Collaborative utilizing funds ​from ​the ​Scientific​& Cultural Facilities District. Funding is ​subject ​to approval by the​SCC/SCFD Boards.
August to September - the SCC Coordinator conducts bi-weekly planning meetings with an interdisciplinary team of teachers (generally 8-10 teachers in one grade) to ​hear requests for activities that might supplement their curriculum. ​
Oct. to May - cultural programs and activities at the schools or field trips to cultural venues.​
.Alliance Project Schools 2016-17
Adams
​Mapleton Expeditionary School of the Arts
Partner: Adventure Elementary
​
Arapahoe
Murphy Creek K-8
Partner: Lower grades
New satellite school:
Deer Trail School​​​
​Boulder
​Twin Peaks Charter Academy
Partner: Twin Peaks Charter Academy High School
​Broomfield
Kohl Elementary
Partner: Birch Elementary
​Denver
​Girls Athletic Leadership School
Partner: GALS High School
​Douglas
Challenge to Excellence
Partner: Ben Franklin Academy
​Jefferson
​Falcon Bluffs Middle
Partner: Mortensen Elementary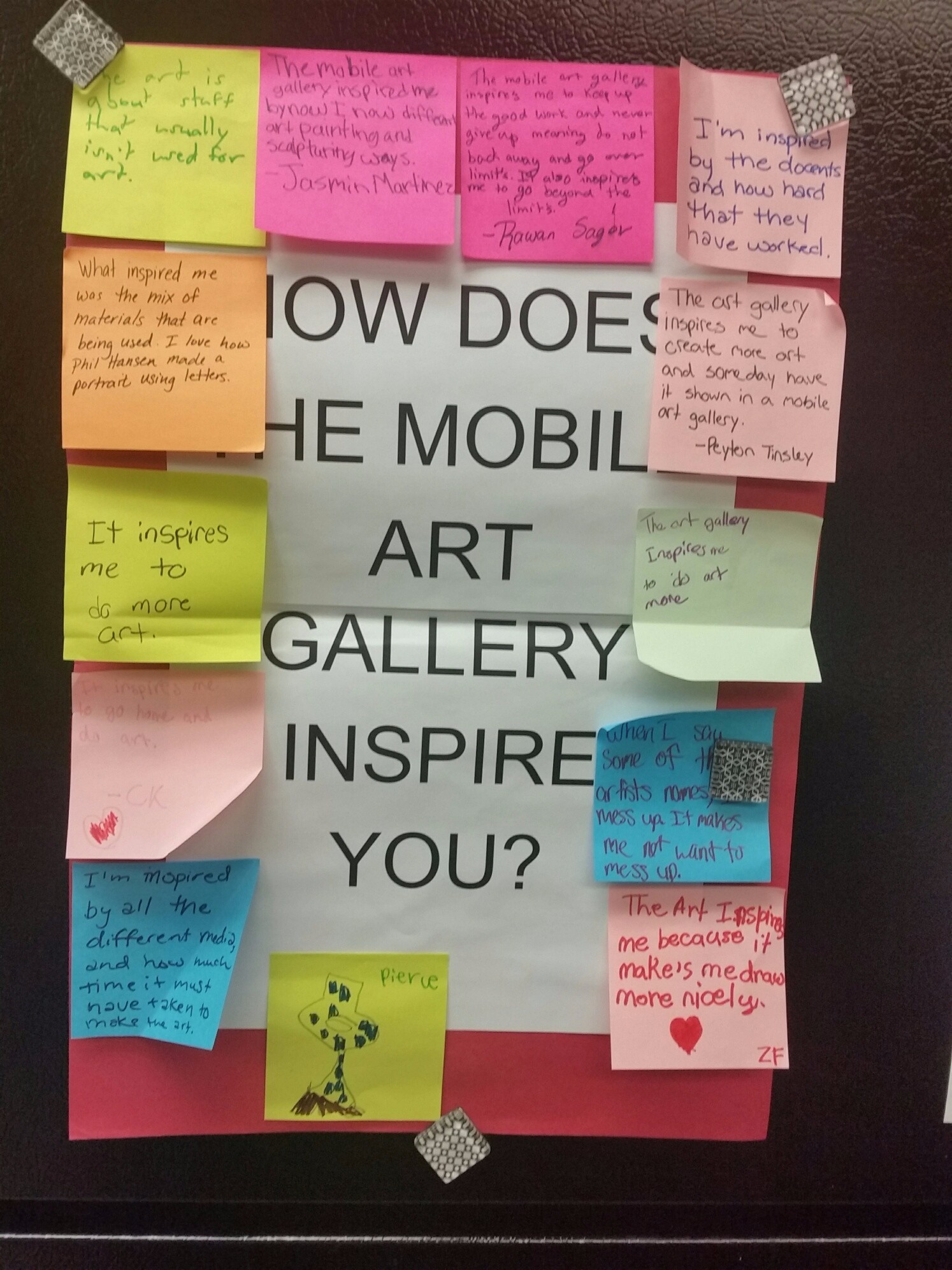 ^^ CherryArts - Mobile Art Gallery in school exhibit
"The Alliance Project gave my teaching a new sense of energy and excitement - a chance to work collaboratively with my peers in authentic experiences for our kiddos." Excel Academy, teacher
"We got to do stuff that made what we are learning in the class real and helped me understand more." 6th grader, Falcon Bluffs Middle
"It was fun and they snuck some learning in." Flagstaff Academy teacher
"The grant taught me so much about what was available from museums, arts organizations, and other providers - I learned to ask for programs and work with wonderful presenters." Cresthill Middle teacher
APPLY FOR FALL 2017 - We are seeking new Alliance Schools in Boulder, Denver, Adams and Arapahoe Counties for Fall 2017
Application due April 26 - public middle grades
See more at: Apply for the Alliance Project